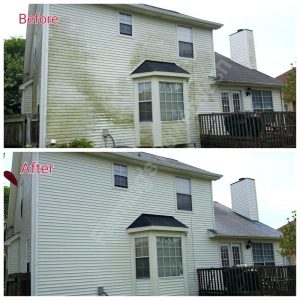 Grime Fighters is a dedicated team of cleaning fanatics, and we're 100% committed to providing you with the ultimate look and feel of a true clean. Whether you're looking to revitalize your home or business, one of the most effective ways to increase your curb appeal and give your property a significant cosmetic upgrade is with a good, thorough power washing.
At Grime Fighters, our team of pro cleaners can transform your outdoor space from dull, dirty and grimy to vivid, brilliant and dazzlingly clean. No matter the size, scale or budget of your needs, at Grime Fighters, we'll collaborate closely with you on everything from scheduling to estimates in order to accommodate you.
With Grime Fighters, any surface you need thoroughly cleansed can be power washed. Using a unique combination of ultra-powerful, professional equipment and proprietary cleaning solutions, Grime Fighters can restore your home, office or storefront.
Exterior House Washing
Are you eager to make your house look brand new again? Because you don't need to replace your home's siding in order to restore its original radiance! At Grime Fighters, our expert cleaning techs employ a unique combination of ultra-powerful equipment, uncompromised skill and precision, and non-toxic, non-abrasive cleaning methods to deliver an unprecedented clean you can't find anywhere else.
Fully insured and with years of experience, our team of pros can restore the original brilliance of any home's exterior. No matter how dirty or blemished your house may have become, Grime Fighters can assess the damage, develop a custom cleaning plan and swiftly annihilate the dirt and grime that's tainting your home.
Patio Pressure Washing
All homeowners with a patio know just how dirty, blemished and full of debris they can get very quickly. Unfortunately, a simple garden hose just doesn't do the trick to properly clean it. Your very best option is a deep, powerful pressure washing to remove all the dirt and debris from the pavement.
The pros at Grime Fighters will transform your patio quickly, effectively and safely. Regardless of the color, material or texture of your patio, we'll calibrate our washing techniques in order to best compliment the pavement. Suddenly, your patio's transformation will make your outdoor space clean, relaxing and inviting.
Restaurant Sidewalk Cleaning
A lot of businesses rely on their curb appeal and outdoor presentation in order to attract customers. However, very few businesses rely on them as much as restaurants do. If your restaurant's storefront is blemished, dull, and dirty, it can have a very adverse effect on potential clientele. With the clean, bright and inviting atmosphere a sidewalk cleaning can provide you, you'll create a much more alluring storefront and entice a lot more patrons to dine in.
When it comes to restaurants, you should never underestimate the power of a clean sidewalk and exceptional curb appeal. With Grime Fighters and our pressure washing services, we'll give your restaurant the dazzling frontier it needs to bring in guests. With a combination of industrial equipment and cleaning solutions, Grime Fighters will annihilate the dirt, grime, residue and organic materials that are hurting your restaurant's image. Once we've finished the job, your curb appeal will soar.